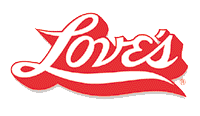 THE ONLY CONFIRMATION OF YOUR ORDER WILL BE YOUR PAYPAL RECEIPT.

Orders will be shipped within 7 to 10 days after receipt of your order.

We welcome your questions.

Here is a quick FAQ.

We are the same Love's BBQ in operation since 1948.

We use Paypal for all online payments.

If you wish to pay by check, please use our mail order form.

Sorry, but at this time we are not able to accept credit cards except through Paypal.

We do not accept walk-in orders.

All order confirmations are made by Paypal.

You will not receive a separate order confirmation from us.

All sales will be shipped to locations within the U.S. with free shipping except for Alaska and Hawaii.

Please contact us directly for special pricing for shipments to other locations.

It may take a week or two for you to receive your shipment. Please be patient.

Please contact us first if you have any problems with ordering, payment, or shipping.

We especially want to hear from you if you find any product damage in the shipment.

We will replace damaged product free of charge.

We will answer your e-mails as promptly as we can, but please be patient.

Our customer service representatives are in California. It may take us a day or two to reply.

Please contact us through our Contact Us page if you have any questions.

If you call us, please tell us your e-mail address in your message so we may reply by e-mail.

Thank you for your support!